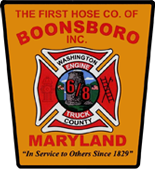 2013 Incidents
STA. 6
STA. 8
Jan
42
30
Feb
41
26
Mar
52
43
Apr
36
29
May
0
26
Jun
0
0
Jul
0
0
Aug
0
0
Sep
0
0
Oct
0
0
Nov
0
0
Dec
0
0
Total
171
154
Past Incidents
Fire
EMS
2012
513
365
2011
431
0
2010
382
0
2009
376
0
2008
402
0
2007
393
20
Web Counters
Website Visitors
Since
August 13, 2010

Visitors Today
May 21, 2013


Copyright © 2013 First Hose Company of Boonsboro


Duplication of text, photos, or any other content on this website is prohibited without permission of FHC. If you have questions, please contact us at info@boonsborofire.org
Welcome to the Official Website for the First Hose Company of Boonsboro INC.
Listen Live To Washington County Maryland
Check here for Company Application
---

MFRI STUDENT TRANSCRIPT
http://www.mfri.org/izone/student/transcript
the 2 tanks can be seen venting on the right side

Fully Involved House Fire

MAY 17 - Fire/Rescue Communications dispatched units to Reno Monument Rd for the reported house fire. Chief 6 arrived on scene with a house fully involved with the roof collapsing. Chief 6 established command and the working fire dispatch requested. Rescue Engine 61 arrived and began cooling 2 large propane tanks on the Delta side of the structure which both had vented. FM-24 arrived and began the investigation ... (Full Story & Photos)

Busy Sunday for the South County Alliance

APRIL 07 - Crews from 6 & 8 were kept busy with calls throughout the day.

-At 0245 Company 6 Dispatched to Park Drive for the Emergency Lock-Out.

-At 0413 Company 6 Dispatched to assist Company 69 with the Overdose Patient.

-At 0509 Company 6 Dispatched to Old National Pike/Mill Point Rd for the outside fire.

-At 0745 Company 6 & 8 Dispatched to Appletown Road for the Barn Fire

-At 1843 Company ... (Full Story)


Busy Day Again With Back to Back Working Fires

MARCH 27 - The evening started out with a trash can on fire on Lappans Road, fire was quickly extinguished and units returned, minutes later tones dropped for a House Fire on Cleavelandtown Road. Chief 6 arrived on scene with a Garage fully involved. As units were busy extinguishing the fire, Communications dispatched units to Lappans Road for the Barn Fire. Cleavelandtoen Road incident was turned over to Deputy ... (Full Story & Photos)

Busy Night For Station 6

MARCH 24 - Just before midnight, company 6, 10, 1, ET2 were dispatched to the intersection of Lappans Rd & Barnes Rd for a vehicle on fire next to a structure, RE61 arrived to find a vehicle fully involved parked against a Barn/Residential Home. Fire was quickly knocked with heat damage to the structure. Just after returning to quarters, companies 6, 10, 16 were dispatched the Betty's Ave for a vehicle on fire ... (Full Story)


Your feedback is important to us! Feel free to sign the guestbook.